2019 Mover and Shaker Presents for Emerging Tech Symposium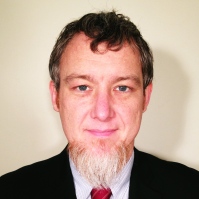 Pete Schreiner is the Research Librarian for Design at North Carolina State University Libraries in Raleigh, NC. He is a 2019 Library Journal Mover and Shaker. As a 2016 NCSU Libraries Fellow, he spent two years leading the Libraries' immersive technologies initiative by supporting VR technologies in library learning spaces and lending services. Prior to NCSU, he worked in Special Collections & Archives at Lewis & Clark College in Portland, OR. Before librarianship Pete ran a carpentry business, worked in media and design, and was a touring musician. He earned his MLS from Emporia State University and BFA from Indiana University. Join Pete at our 2019 Emerging Tech Symposium on Thursday, June 6, 2019 at the Hilton Garden Inn in Twinsburg. Pete will discuss Accessing Virtual Reality in the Library. This session will look at ways of providing access to virtual reality in library spaces, and integrating VR tools into lending workflows. We will discuss tools from various price points to address differing budgets. Pete Schreiner from NCSU Libraries will share practical insights from two years of experimenting with VR services, opening VR learning spaces, and lending VR equipment.

The 2019 Emerging Tech Symposium will focus on exposing library staff interested in emerging technologies to a broad array of possibilities. The day-long format of the Symposium will include two speakers and four breakout sessions as well as a poster session, and will conclude with a panel discussion. Breakout sessions will be scheduled so that every attendee may attend three different sessions. Don't miss it. Register Today!
Don't Miss a Workshop or Webinar